SER APPROACH
Environmental and social responsibility: our commitment for more than 30 years !
SER is a key issue in the governance of the Rallye, which we share with our partners and everyone attending the event. In 2010, our organization set up an independent SER advisory committee. Made up of French and Moroccan institutions as well as partners associated with our events, the group is a generator of ideas whose philosophy is continuous improvement.
This committee was chaired by Christine Lagarde, President of the European Central Bank, from 2010 to 2022 and is now chaired by Nadia Fettah, Moroccan Minister of the Economy and Finance.
Our SER policy is based on 3 pillars :
I – COMMITMENT TO WOMEN
In 1988, Dominique Serra was a young entrepreneur who had just started her own communications agency, Maïenga. The Haute-Marne Chamber of Commerce and Industry entrusted her with a task that she would end up pursuing all her life: to promote women.
She proposed to venture into terrain usually reserved for men: the world of rally-raids. This choice was far from insignificant: what better "male" sport than a rally to demonstrate the abilities of women in situations where you wouldn't expect to find them.
In 1990, she created the "Trophée des Gazelles", with 9 teams on the start line.
In 2021, the Rallye Aïcha des Gazelles has become a legend, celebrating its 30th anniversary and the participation of more than 6,000 women from 70 different countries around the world.
This event where anything is possible is a showcase for strong and committed women who share common values.
Through their commitment, all our participants inspire others and have a strong positive impact !
Our objective is to :
Promote women in all fields and encourage them to go beyond their limits,
Draw attention, especially media attention, to the importance of promoting and showcasing inspiring women,
Foster the inclusion of more women in leadership roles within businesses and institutions.
II – RESPECT FOR THE ENVIRONMENT
At Maïenga, the environment and sustainable development are at the heart of our concerns. We are convinced that it is possible to for a sports event to control its impact on the environment.
Since the creation of the Rallye Aïcha des Gazelles du Maroc in 1990, our organization has been offering a new vision for motorsports. This rally has no speed criterion and is won by driving the shortest possible distance while respecting the environment. This is the concept of eco-driving !
This trailblazing concept of respect for the environment, combined with concrete actions, testifies to our pioneering spirit, and is an approach that other rally-raids have yet to consider.
In 2010, our proactive approach culminated in ISO 14001 certification, the international standard for Environmental Management Systems (EMS). The Rallye became, and is still to this day, the only rally in the world to have earned this certification.
This standard is based on the identification of environmental impacts, possible solutions for improvement, and the implementation of adequate processes for all our events. Each year, concrete objectives provide a framework for our efforts and guide our goals. Indicators allow us to evaluate the effectiveness of our actions and push us to go further.
MAIENGA is committed to :
Reduction of CO2 emissions
The concept of our events excludes any notion of speed, which allows a significant reduction in CO2 emissions.
Moreover, all participants believe in our approach and contribute to it.
Maïenga makes every effort to reduce its emissions, for example :
The route of each event is optimized to limit travel,

A carpooling system allows us to reduce the impact of the organizers' transportation, and co-travel solutions are offered to participants,

Most of our material and equipment is stored in Morocco, reducing the number of trucks travelling from France,

Food is sourced locally to encourage a short supply chain,

Low energy light bulbs are used at the bivouac and the restaurant tent is transparent which allows us to avoid using lights before nightfall,

Capping the number of teams per event allows a better control of environmental impacts,

Monitoring of fuel consumption by type of fuel makes it possible to measure emissions,

Participants are encouraged to adopt an environmentally friendly driving style (eco-driving), but also not to use air conditioning and to travel as light as possible…
Towards a bivouac powered by clean energy
In 2023, tests will be carried out at the Rallye Aïcha des Gazelles into the possibility of powering the bivouac with a high-capacity hydrogen generator. The goal is to significantly reduce CO2 emissions.
The Kingdom of Morocco is the host country for our events. Maïenga is proud to help others discover the beauty and richness of its landscapes.
We are convinced that nature is our most important partner. Interdependent and directly connected, we make every effort to preserve it.
All of our actions are therefore aimed at protecting biodiversity and leaving a clean environment behind us, for example :
We pay special attention to farmland and crops, when driving through towns and villages, and to the preservation of protected species. We fight against sound and light pollution to avoid disturbing the local ecosystem. Bivouacs are set up far from villages and sensitive natural areas in agreement with the Moroccan Ministry for Tourism,

We use environmentally friendly products without solvents. All parties are encouraged to use biodegradable products to avoid ground pollution,

Protective tarpaulins are always installed in vulnerable areas (fuelling station, mechanics area…) to protect from spillage, and fire extinguishers, spill kits are provided to all organization vehicles to enable immediate action,

Refuelling is carried out by a trained and dedicated crew,

Participants are sanctioned for any environmentally harmful actions,

To minimize the risk of spills, emergency exercises and training are provided for "department" leaders and Maïenga staff,

Wastewater from the sanitary facilities is filtered and channeled away. Traces disappear into the surrounding environment extremely quickly. The absence of sensitive areas (nearby catchment area, wells, villages, crops, etc.) is confirmed with the local authorities,

More than 13,000 date palms have been planted since 2008 (action carried out during the Bab el Raid). This action allows us to raise awareness among stakeholders of the vital impact of date palms on the Moroccan ecosystem.
In response to the increase in water stress expected by 2025, Maïenga ensures that water is used in a reasonable and rational manner :
Awareness campaigns are carried out to prevent water waste,

The installation and daily monitoring of water meters makes it possible to identify and prevent leaks,

At the bivouacs, the washroom facilities are equipped with water-saving devices and the volume of water is measured and controlled,

Non-potable water, which is transported by tank trucks, is drawn from "stable" sources. Maïenga establishes a maximum threshold per event so as not to threaten the water balance of the area concerned,

Bottled water is not self-serve but is distributed as needed. Participants are asked to mark their names on their bottles to avoid waste.
At our events, participants consume an average of 63 litres of water (potable and non potable) per day per person compared to 153 litres in France (source: ADEME).
With Cœur de Gazelles, we are committed to improving access to water for desert communities. 24 wells have already been built in addition to irrigation canals for farming.
To ensure that all of its event sites are left in their initial state, Maïenga is strict about dealing with waste.
On location, a waste collection system is put in place to sort waste and a dedicated crew ensures that the instructions are respected.
This approach allows 25% of waste to be disposed of through appropriate channels :
Food scraps are given to local farmers to feed their animals,

Specific types of waste (such as IMW, mechanical oil, etc.) are disposed of through appropriate channels,

The water bottles consumed are recycled, along with their lids: Between 2001 and 2019, we used them to build houses, a school and a training centre. Since 2021, 620 kg of bottles have been recycled by a work integration social enterprise.
The remaining 75% is incinerated by a mobile incinerator truck. No waste is left in the desert (nothing is buried).
MAÏENGA is pursuing its "0 plastic" objective for the restaurant. This has enabled us to replace 90% of plastic dishes. The goal is to reach 100% by 2023.
We are convinced that waste management requires waste reduction :
The organization raises awareness about food waste among event attendees,

The caterer adjusts the quantities on a daily basis to avoid surplus,

Participants are asked to order the number of lunch rations they want before the event.
All our agency's documents are in electronic format as much as possible to reduce paper consumption,
MAIENGA does not only focus on the waste generated by its events. It goes further !
Participants of the Trek'in Gazelles are asked to pick up the waste they encounter along their route. In 2021, 7,000 litres of waste was collected. Objective in 2022: to double this amount.
With this initiative, the organisation wishes to stimulate environmental awareness. It also encourages participants to do the same thing during their next walk !
With Coeur de Gazelles, we are committed to improving access to water for desert communities. 24 wells have already been built in addition to irrigation canals for farming.
III – POSITIVE SOCIAL ACTIONS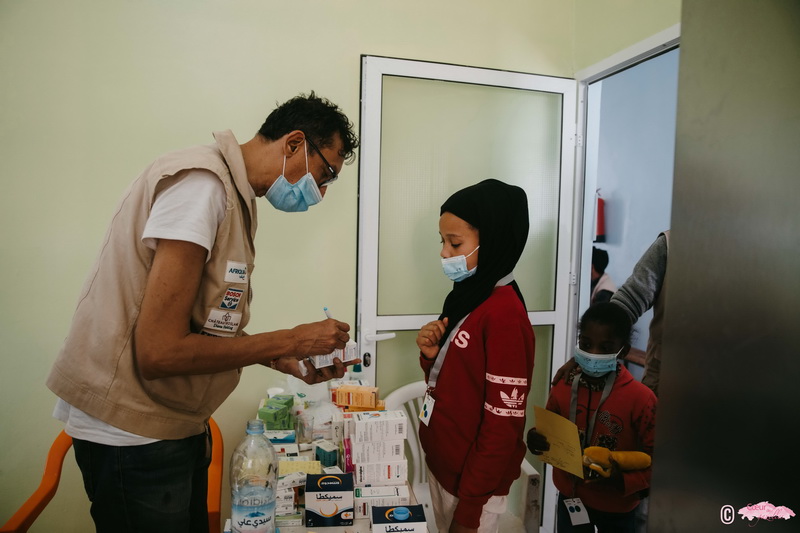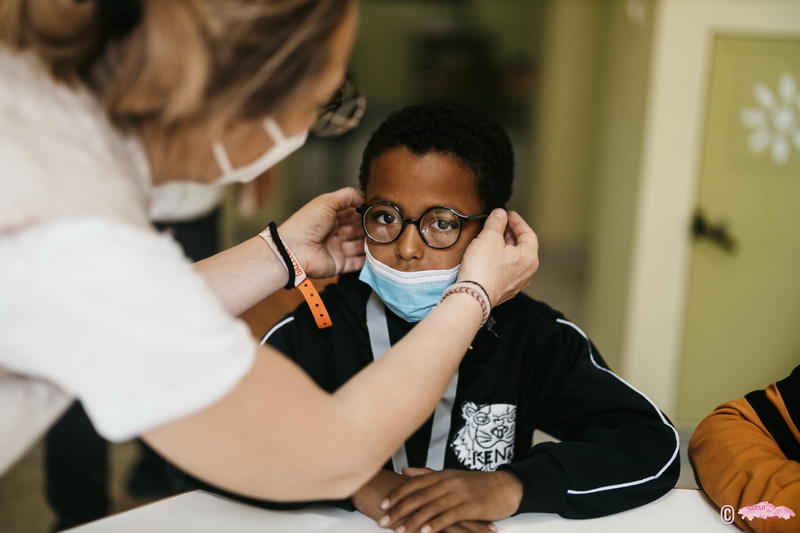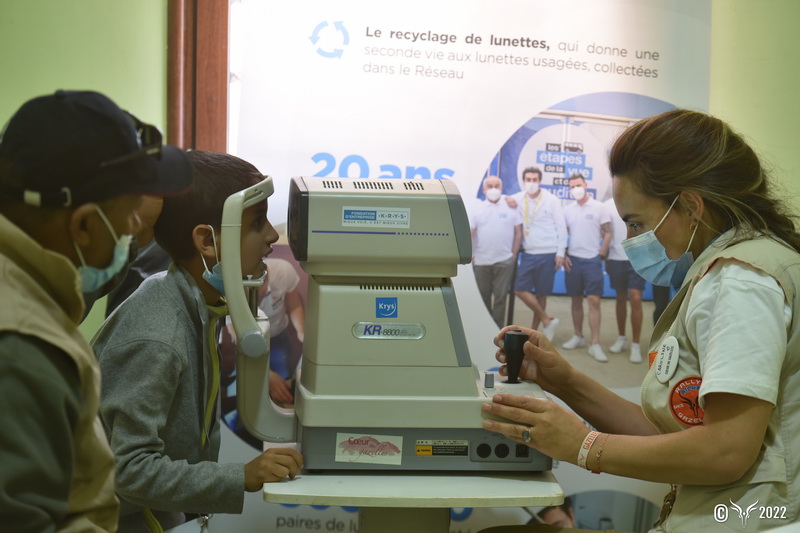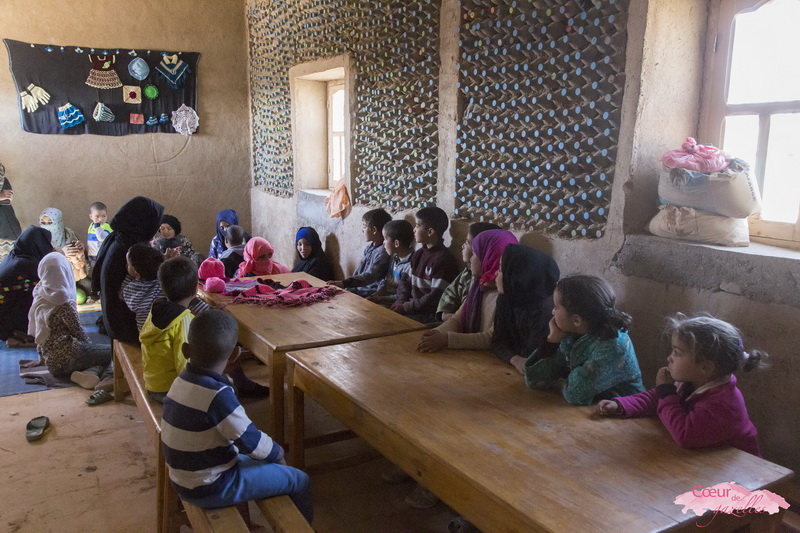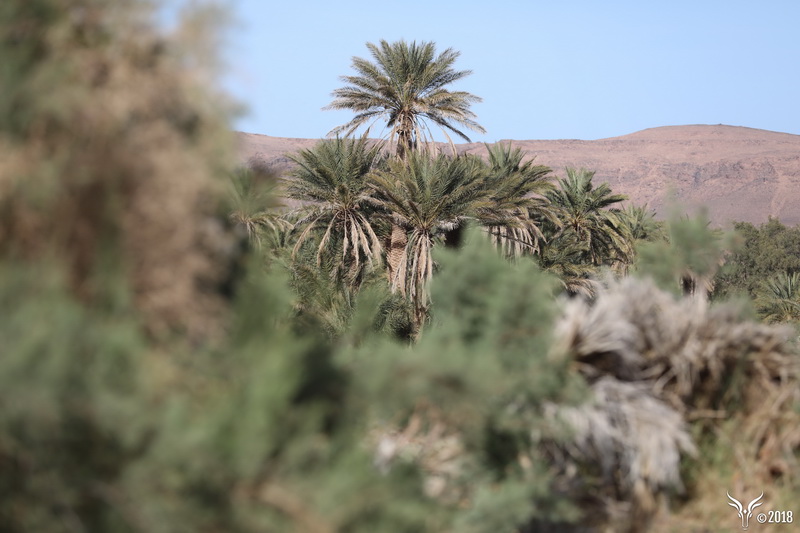 At Maïenga, we organize events from the heart !
We are proud to be actively involved in promoting solidarity by carrying out positive social actions in France and in Morocco.
We work with Coeur de Gazelles, a registered non-profit organization created in 2001, which is active in 3 areas :
1/ Access to free medical care :
Every year, thanks to the logistics of the Rallye Aïcha des Gazelles, Cœur de Gazelles organizes the largest travelling medical caravan in southern Morocco, providing access to free medical care for the country's most remote communities. In partnership with the Moroccan Ministry for Health, more than 50 volunteers offer their time and expertise in a range of medical specialties including general medicine, paediatrics, gynaecology, dermatology, dentistry, optics, ophthalmology and pharmacy.
91,622 people have received free medical care.
2/ Access to education :
Various means are used to defend the right to education. Coeur de Gazelles works on the construction of schools close to where people live and the renovation of schools to facilitate and encourage children's learning.
In Morocco: 8 schools have been entirely renovated, 1 new school has been built.
3/ Sustainable development :
The largest community palm grove in Morocco :
More than 13,000 date palms planted since 2007.
Agriculture is the main source of income for families and represents the backbone of the oasis ecosystem: date palms protect biodiversity, develop the local economy, and protect the future of the community.
Our aim in 2023: to plant 1,000 more trees.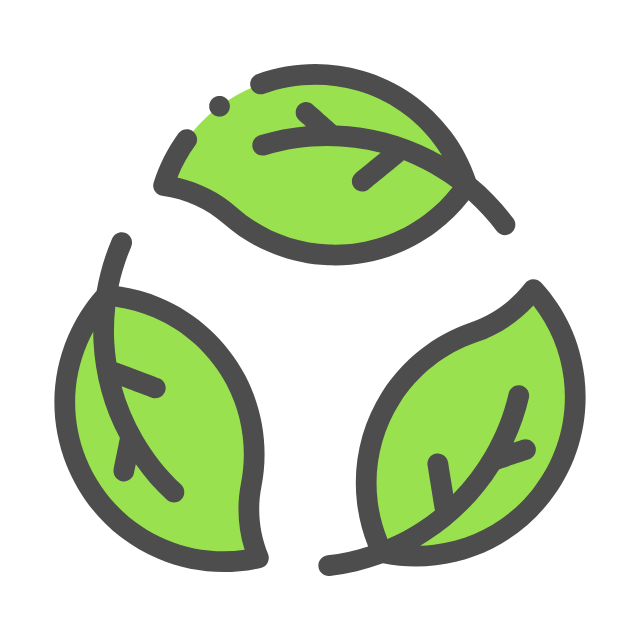 ACCESS TO WATER
Coeur de Gazelles builds wells near the homes of nomad families in Morocco who have to walk several kilometres to reach the nearest water source.
Our aim in 2023: to continue to improve access to water for those who need it most.
GETTING RID OF PLASTIC POLLUTION, TOGETHER
Coeur de Gazelles organizes caravans to raise awareness about the importance of eradicating plastic and cleans up the countryside to help eliminate plastic pollution once and for all :
7,000 litres of plastic waste was picked up in 2021
The recovered plastic is recycled by a work integration social enterprise
37,358 people have been educated about the harmful impact of plastic on the environment
30,000 cotton bags have been given out with the goal of changing consumption habits
Our aim in 2023: to continue to help local communities to make the transition from disposable to sustainable.
GAZELLES WITH A PURPOSE: the "GAZELLES ENGAGÉES" award
TOUTES À L'école : In 2021, a donation of €10,000 was made to the association's president Tina Kieffer to pay for computers for the students.
Atlas Kinder : Atlas Kinder are Moroccan children who have been orphaned or abandoned because of illness, poverty or social pressure.
A donation of €10,000 was made to this association in March 2022.
TIMELINE OF OUR ENVIRONMENTAL INITIATIVES
2008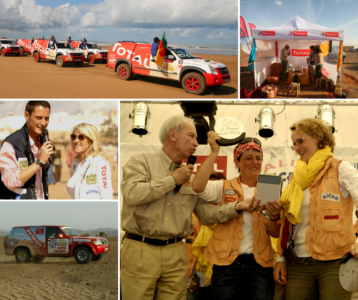 The Energy Efficiency "Drive Better" Trophy " is awarded to the best team.
2009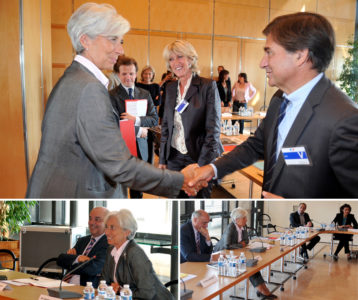 An ethics committee chaired by Christine Lagarde works on concrete initiatives on the ground.
An environmental charter is put in place.
2010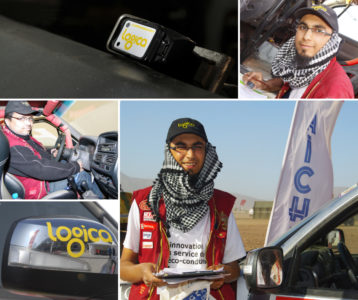 Rallye partner LOGICA installs an Emissions Monitoring System (EMO) in every vehicle to measure CO2 emissions in real time and reward the teams with the best eco-driving performance.
2011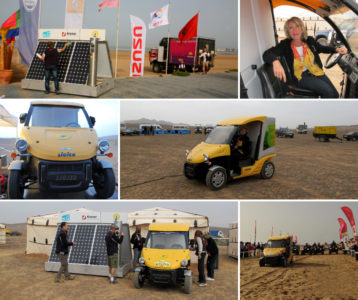 The La Poste Group provides an electric vehicle, the Quadeo, for use at the bivouac That same year, Logica installs the first solar-powered electric charging station.
In 2015, the Rallye strengthens its stance, taking part in COP21 followed by COP22.
2016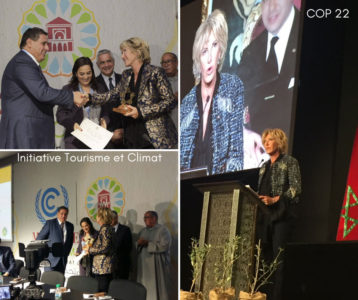 Maïenga receives the Moroccan Ministry for Tourism's "Tourism and Climate Initiatives" prize for its environmental actions.
2017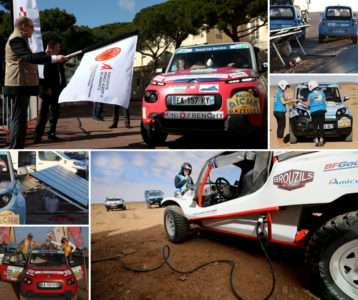 E-Gazelle–Vinci Immobilier Class is officially launched by HSH Prince Albert II of Monaco.
Several 100% electric vehicles compete in the event, ushering in a new era for the world of rally raids.
2021 / 2022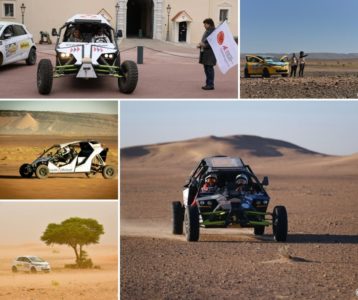 The electric vehicle category continues to grow with increasing interest in 100% electric vehicles, under the aegis of the Prince Albert II of Monaco Foundation.
Every year, an accredited independent certification body audits both MAÏENGA and the Rallye Aïcha des Gazelles on location in Morocco, verifying compliance with the required systems and standards. With this action, we hope to serve as an example in the world of sports events: an example set by women… always pioneers !