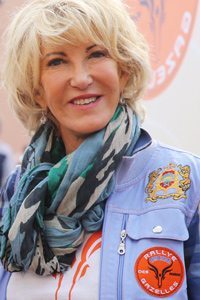 SINCE 1990
The Rallye Aïcha des Gazelles du Maroc has been a pioneer in concept and innovation. Sweeping prejudices and clichés aside, the Rallye continues to grow, constantly shaping itself and evolving with the times, always faithful to its founding values: courage, the desire to push one's limits, loyalty, solidarity, and an environmental and social commitment.
Since its creation, the Rallye has earned the well-deserved respect of the people of Morocco and the general public, as well as its participants and partners alike.
Our strength has always been in planning ahead and looking to the future. We have been particularly mindful and innovative when it comes to protecting the environment.
We are proud to be the only motorsport event in the world with ISO 14001:2015 certification, since 2010.
Every year the event's organizers work hard to strike a balance between the challenge of the terrain and the comfort of the bivouac, for these women from all walks of life who deserve all our admiration.
"We do everything in our power to promote their exploits to the world through the deployment of technical resources unequalled in the world of women's sport."
INCOMPARABLE
The Rallye would never have achieved such recognition without the famous "Gazelle Spirit" that makes it stand out in the world of off-road rallies and reflects the values of our loyal partners.
Without all of these things, the Rallye Aïcha des Gazelles du Maroc would be no more than an interlude, an aside in our busy lives. As it is, for me and for everyone involved with the event, it puts all of us back in touch with our basic humanity. It is the adventure of a lifetime. An adventure that inspires those it touches to change their lives and the lives of those around them.
An adventure whose motto, coined by the Gazelles themselves, is « Once a Gazelle, always a Gazelle !»
Dominique Serra
Founder and CEO
A rally which has always been innovative… and which has been written for 30 years !
9 teams are at the start of the 1st edition of the Trophée des Gazelles
1st international teams on the event
The Moroccan company Aïcha becomes the title partner
This year, for the first time in its history, the competition, hitherto reserved for production 4X4s, will be open to quads, motorcycles and trucks.
1st Cœur de Gazelles medical caravan
+
Implementation of the IRITRACK satellite geolocation system
A truck team participates for the first time
Creation of the Crossover category
+
First participation for 3 teams in SUV: 1 Land Rover and 2 Kangoo
The Rally exceeds 100 registered teams
His Majesty King Mohammed VI honors the Rally by granting the Coat of Arms of the Kingdom
+
Participation of the first SSVs
The Rallye obtains the ISO 14001:2004
Creation of a 100% electric category