THE EVENT ORGANIZER : MAÏENGA
Maïenga est une agence évènementielle sportive internationale organisatrice d'événements depuis 1990.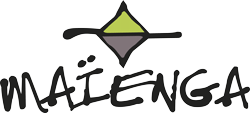 Composée aujourd'hui de 20 salariés, elle a pour vocation constante de créer ou appuyer des projets atypiques et novateurs.
C'est dans cet esprit que notre équipe insuffle respect, responsabilité et qualité à ses réalisations.
Fort de l'expérience avérée du Rallye Aïcha des Gazelles, Maïenga met son savoir-faire au profit de ses autres événements majeurs : le Bab el Raid, raid à défis en voitures 2 roues motrices, le GAM, raid basé sur le concept du Rallye Aïcha des Gazelles du Maroc, ouvert aux hommes et aux équipages mixtes ! Le Gazelles Morocco China, le concept du Rallye Aïcha des Gazelles du Maroc, en Chine dont l'édition débutera en octobre 2021. Et enfin le tout dernier : Le Trek'in Gazelles dont la 1ère édition aura lieu très prochainement.
Notre priorité a toujours été de garantir votre sécurité à tous, participants et organisateurs, mais aussi de respecter les populations locales des pays traversés. Pour nous la qualité prime sur la quantité. Ainsi, nous ne prendrons pas le risque que nos évènements deviennent des rallyes-raids de masse mais nous préférons vous assurer qu'ils restent les meilleurs.
Découvrez notre site internet : maienga.com
THE EVENT
Un premier départ est donné de France avec en amont des vérifications techniques et administratives. Puis les équipages rejoignent les équipages non-européens au Maroc, terre d'accueil depuis toujours.
La compétition démarre à l'issue d'un briefing général obligatoire.
Au Maroc

L'organisation encadre les participantes autour de plusieurs pôles : directeur sportif, contrôleurs sécurité, commissaires de course, technique et sportif, gestionnaires de classement, pilotes, photographes, caméramen, rédacteurs, réalisateurs, webmasters, indexeurs photos, ingénieurs mécaniciens, mécaniciens, pompistes, cuisiniers, serveurs, manœuvres…
• 500 m² de tente restaurant, 3 tentes médias, 1 "clinique gazelles", 1 espace détente, 3 camions sanitaires…
• 12 000 repas servis, 26 000 bouteilles d'eau, 70 000 litres de carburant, 20 tonnes de déchets incinérés, 50 tonnes de matériel
• 1 bateau et 4 avions affrétés
• 1 bureau de poste nomade est mis en place pour permettre les échanges entre les Gazelles et le monde extérieur (plus de 25000 emails traités par édition).

Bivouac et logistique

Le Rallye repose avant tout sur une formidable logistique !
Véritable petit village nomade dans le plus pur style marocain se déplaçant avec l'événement, il  accueille environ 700 personnes au quotidien et s'éveille le jour du prologue pour ne jamais se coucher. Il répond à trois objectifs :
• assurer aux participantes un havre de paix, de récupération, de repos,
• assurer aux journalistes les meilleures conditions de travail,
• assurer aux organisateurs les moyens techniques pour mener à bien leur mission.

Un bivouac propre

Le Rallye respecte les régions traversées en nettoyant et en ramassant, triant et incinérant tous les déchets engendrés par la caravane, et laisse ainsi un "bivouac propre".
Sport et sécurité

La gestion sportive et la sécurité sont deux points essentiels du Rallye. A ce titre, l'organisateur consacre des moyens humains et techniques très importants pour être en adéquation avec les objectifs de qualité fixés.

Gestion de la compétition

Une équipe opérationnelle jour et nuit (directeur sportif, commissaires sportifs, mécaniciens d'assistance,…). Les moyens technologiques les plus récents pour gérer le Rallye sont mis en place pour assurer son bon déroulement.

Communications et télécommunications

De nombreux moyens satellite et radio sont mis en place afin d'assurer les communications sur le Rallye et avec le monde entier (50 radios, 8 relais VHF, 40 téléphones satellites).

L'espace mécanique

Structuré autour de moyens techniques importants, l'atelier mécanique assure quotidiennement l'entretien et la réparation de tous les véhicules. 2 camions citernes délivrent le carburant au bivouac.
The Rallye Aïcha des Gazelles du Maroc has been using a satellite security system (Iritrack) since 2001.
This system makes it possible for the organization to follow each team live by satellite 24 hours a day and to ensure optimal security during the competition.
Iritrack has been tried and tested on rallies for many years,
Iritrack has proven to be solid and reliable for information transmission,
Teams are able to send medical and mechanical alerts, which are received by the organization,
Teams can contact the organization directly.
With all of Iritrack's technical capabilities, the organisation is able to guarantee the safety of all teams.
La technologie peut avoir ses limites et en cas de dysfonctionnement, l'organisation se fait un devoir de mettre à disposition un système de sécurité supplémentaire.
Chaque équipage est en possession d'un 2ème appareil… une balise de détresse SARSAT, appareil de détresse utilisé dans l'aviation, la marine, les événements sportifs… dans le monde entier.
320 organisateurs présents sur le terrain assurent le confort et la sécurité des participantes tout au long du Rallye.
SHARED MECHANICAL ASSISTANCE
40 mécaniciens assurent les réparations des véhicules Gazelles
L'assistance mécanique est commune à tous les équipages, sur le terrain, pendant les étapes et au bivouac le soir. C'est l'une des spécificités du Rallye Aïcha des Gazelles. Aucune autre équipe d'assistance n'est autorisée sur l'événement.
Pendant les étapes, en cas de problème mécanique, chaque équipage peut faire appel à l'assistance de l'organisation qui intervient dans les meilleurs délais. Cette assistance est accompagnée de points de pénalité.
Chaque soir, durant tout l'événement, un "atelier mécanique bivouac" prend en charge les véhicules. L'équipage effectue avec le responsable de l'atelier mécanique, un check-up destiné à préciser l'entretien ou la remise en état nécessaire. Aucun point de pénalité n'est appliqué pour les interventions sur le bivouac.
L'assistance mécanique est comprise dans les frais d'inscription
REAL-TIME TEAM TRACKING
Creative and unique, the Rallye Aïcha des Gazelles du Maroc was the first to offer Internet users the opportunity to follow the team of their choice live, thanks to the satellite positioning system installed in each vehicle.
Families, friends, fans and sponsors can experience the competition in real time by following the teams as they move across an interactive map. The rankings are posted on line every evening, keeping them up to date on how their favourite teams are doing.
This ability to follow the competition live is also a powerful tool for companies, allowing them to unite their employees around a dynamic project.
In addition, the organisation provides a space at the bivouac where teams can receive messages of encouragement from their families, partners and friends !