ONCE A GAZELLE, ALWAYS A GAZELLE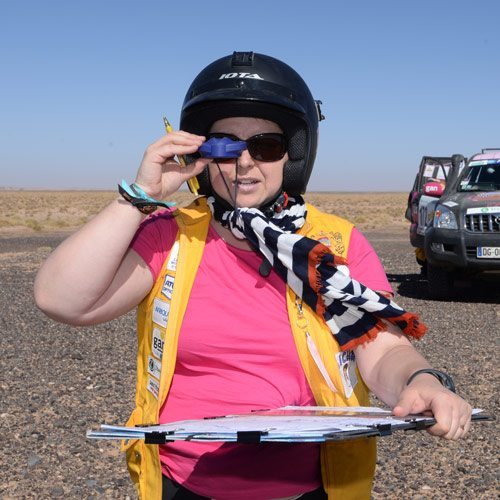 Linda Dommée
Project Manager
🇫🇷 France
My life was the same as everyone else's, that is to say with magnificent moments but also hardships that made me doubt my ability to get back on my feet. And then, one day, an awakening, a feeling of being fed up, made me decide to live this adventure. Above all, not to think too much about it, otherwise I might find reasons or excuses not to do it. I'm too old, too fat, too sick, too much a "wife" or too much a "mother"… So I just went for it, and there was no turning back.
What a great decision! The Rallye has given me so much. The fundraising phase may seem difficult, but in fact, it's all part of the adventure.
I met some great people, I did live TV, radio interviews, talked to journalists, did photo sessions (though I hated the way I looked!). Once I got there, my first impression was to feel alive, free, myself. I forgot all about my weight, my age, my aches and pains, my obligations…
There's just one thing to worry about: going in the right direction.
During the Rallye you're not judged for being attractive or unattractive, there's no fashion, there are just women who are going all out and pushing their limits.
Every Gazelle feels different things, but we all have one thing in common: the pleasure of being there together and sharing difficult moments, moments that are also magical and unique.
Dare, live, come discover the pleasure of camping, dust, getting stuck, shovelling, but also friendship, sharing and a family, that of the Gazelles, forever.
This adventure is 90% mental and 10% physical, and 100% pleasure.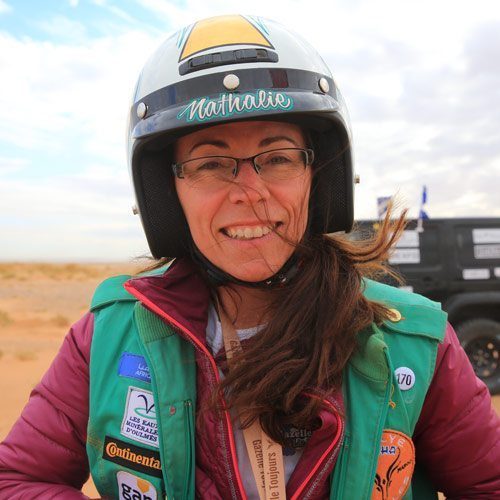 Nathalie Breton
Mother of two big beautiful young men aged 16 and 18
🇨🇦 Montreal, Canada
Pushing your limits, leaving your comfort zone, determination: these are the words most often used to describe this rally…It is also an experience and a set of emotions that can't be expressed through words. The Rallye has to be lived, with others but above all, with oneself…
The Rallye is more than a 17-day challenge: it's the challenge of a lifetime.  It begins the moment you decide to do it. To be a Gazelle, you need a variety of skill sets: you need to be an organizer, a salesman, sometimes a waitress, an account manager or a finance manager, an artist or an event host, and much, much more…
Maria Giraldo
Engineer, 2 children aged 5.
🇨🇴 Colombia
The Rallye changed my life. After experiencing this human and sporting adventure, I am a different woman. Now I believe that every problem has a solution, I am more courageous, more creative. I find great value in the little things.
The Rallye taught me that no dreams are too big: if you have the determination, if you work to succeed, if you work very hard you can make it happen.
Doing the Rallye with Catherine—her in France, and me in Colombia—showed us that there are no limits. Speaking different languages is not a problem; if you look for ways to communicate, you can organize a rally with an ocean between you…
For me the Rallye is a real vacation: no mobile phone, no e-mail, no kids, no boss, nothing at all, just your teammate, the desert, navigation, and enjoying the beautiful scenery.  Even if you finish exhausted, it has been the best experience of my life. Getting to know more than 300 women who are seeking to live the legend like yourself.
Life changes after that, because "Once a Gazelle, always a Gazelle!"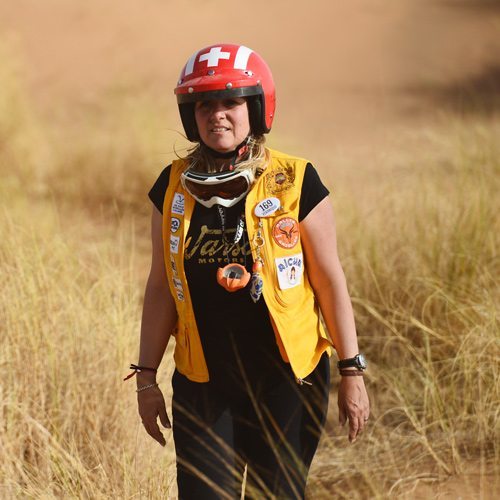 Véronique de Sybourg-Siffert
Nail stylist, 3 children & 2 grandchildren
🇨🇭 Switzerland
A sensation… of freedom, of living, of existing for myself and not through a Dad, a brother or a husband, finding fulfilment, exploring my personality, discovering my abilities…
Why do it?
To escape, to get away from the daily routine, to realize your dreams, to seek your limits… deep down, to see the stars and the look of pride in the eyes of your children and your husband, to challenge yourself, to live exceptional moments is magical places, to go further each time,  to meet amazing Gazelles, to discover a fabulous, warm and welcoming country, for the madness of this marvellous adventure, for its intense moments of emotion, for the magic of the sand… the dunes, for the pleasure of making others happy with Coeur de Gazelles.
And I could go on !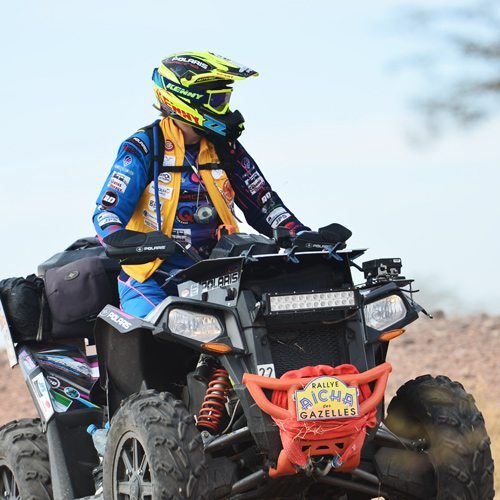 Betty Kraft
Equine veterinarian, 3 children
🇫🇷 France
What do I say to people who ask me why I keep returning to the Rallye, which is so familiar to me after all this time? The Ralle is my vacation…no children, no husband, no telephone (I'm on call 24/7, I sleep with my telephone, I never turn it off), my Gazelle friends, my staff friends, the quad bike, the dunes, the crazy atmosphere…
I feel free… I feel truly alive… through the immensity of the landscapes, being able to choose my own route, and of course the quad bike which weaves its way so easily through the desert, the wind in your face, the fragrance of the desert, the freedom to plan your strategy, the freedom to swear, to laugh at everything and nothing.
You have to experience this rally to feel free as a woman.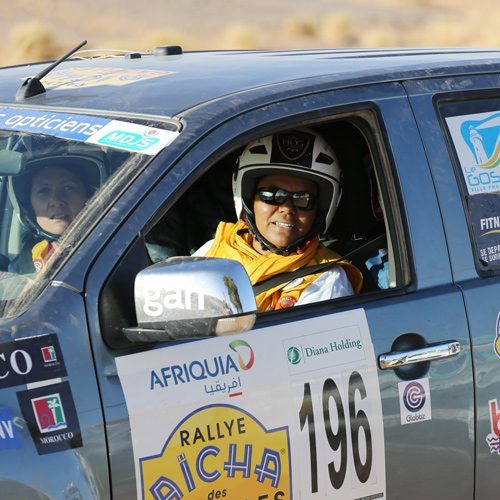 Fany Lumière
🇫🇷 Guadeloupe
I did it! And I hope you all get the chance to do the RALLYE AÏCHA DES GAZELLES at least once in your lives. I am "Granny Gazelle", I live in Guadeloupe and every year I cross the ocean to experience the RALLYE.
For my part, the Rallye changed my life; I got past my fears and gained self-confidence. I "discovered" myself.
"Once a Gazelle, always a Gazelle" is more than a slogan, it's a real state of mind. Gazelle recognize and understand each other, we have our own language, we've shared the same experiences, the same joys and sorrows
After each adventure I remember the smiles and tears on the faces of all these different women who mirror my own expressions throughout the Rallye. And then there are the health professionals with Cœur de Gazelles, who share a passion for helping others, putting humanity at the heart of the action.
The organization is caring and considerate, and we can't wait to get together again every year.
I am a Gazelle forever.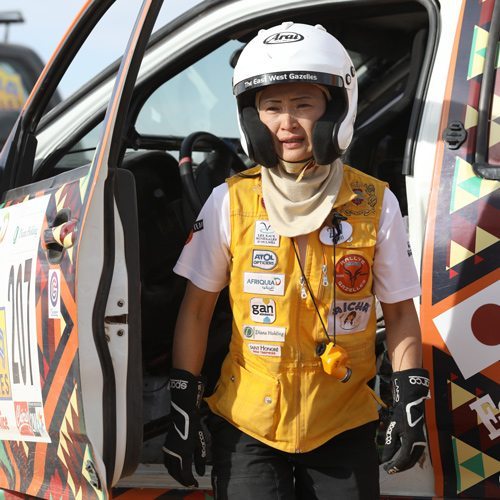 Kaori Ishibashi
Worker
🇯🇵 Japan
I learned many things from the desert and the gazelles.
"Greatness of nature" "My immaturity" "Respect to nature, animals and people living with it" "The feeling of helping people" "Friendship" "Never give up" "Strong spirit power and wide mind"
This Adventure was a wonderful experience for people to grow.
I had a dream from my childhood to go to the desert rally. I am grateful to the Gazelles rally that gave me that dream.
This experience is my life's treasure.
私は砂漠とガゼルラリーから沢山の事を学びました
自然の偉大さ
自分の未熟さ
環境問題について
自然や動物やそこで暮らす人々に敬意を払う気持ち
人を助け思いやる気持ち
友情
諦めない気持ち
強い精神力と広い心
この冒険は人を成長させる素晴らしい経験だと感じました
私は、砂漠のラリー行くことが子供のころからの夢だった
その夢をかなえてくれたガゼルラリーに感謝しています
この経験は 私の一生の宝です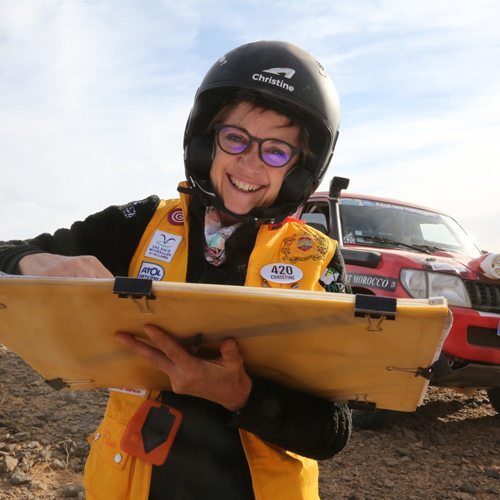 Christine Hunka
Communications assessor
🇫🇷 France
French, no children, working for a large company as a communications assessor.
Daring to do this rally means daring to push our limits, and discover that we have unsuspected strengths.It helps us to gain confidence in ourselves, it teaches us humility, solidarity, brings up doubts but makes us proud to have dared to do the seemingly impossible.
It creates friendships and indelible memories.
In a world where electronics are the order of the day and equality is lagging behind, this rally shows that women really are equal to men.
Nicole Pitell
Director of operations
🇺🇸 USA
Becoming a Gazelle became a journey that is hard to describe in words or pictures.
It was a transformation of my soul, my spirit and my self-confidence. Africa is amazing! The competition was intense. It was exhausting. It tested you physically and mentally for 9 solid days and nights. You had to be prepared. You had to be ready to expect the unexpected. I met the most amazing women from all over the world and we now share a common bond – being a Gazelle. It is a badge of honor earned through tenacity and perseverance. You are part of a community of women that support, push, and challenge one another. There are all different levels of competitors in the rallye. First time off road drivers. Seasoned off road veterans. Explorers in adventure sports. The diversity of the Gazelle Rallye makes it one of the most unique competitions that I have ever experienced.
And it has changed my life forever!
THANK YOU to the staff and its volunteers for putting it all together.
It's an adventure that will change your life forever!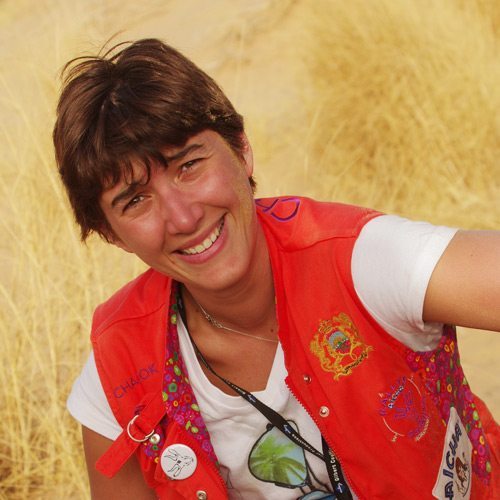 Gaëlle Menu
Teacher, 3 children
🇫🇷 France
Why do the Rallye… For the magnificent scenery, for the challenge, for the fun, to help others, for Coeur de Gazelles… for all of those reasons, yes, but above all to experience a feeling unlike any other… crossing the finish line.
Yes you, the mother, the wife, like all of the other women in "real life"… you did this rally!
Very few Gazelles cross this line without crying… it is at that moment that you realize that you have just done something extraordinary!
The tender gaze of "your" Gazelle, the proud looks of the organization members, the tears in the eyes of your Gazelle friends… Being a Gazelle will never leave you!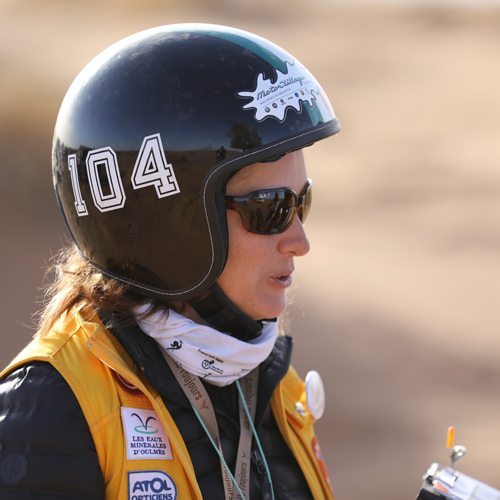 Emmanuelle Tarquini Dos Santos
Management controller and mother of a 7-year-old girl
🇫🇷 France
I have a rare disease, Arnold Chiari Syndrome.
I have been passionate about cars since I was a little girl. I dreamed of taking part in the RAG, which in my opinion is the only "un-sanitized" women's rally that gives women the chance to really challenge themselves and to show that they can shine in a sport generally reserved for men.
And I find the concept of compass navigation fascinating because it adds a technical and strategic dimension to the competition that only the RAG has to offer.
Moreover Morocco, where the competition takes place, is a magnificent and welcoming country. You can't help falling in love with this adventure! For me the trigger was the diagnosis of my disabling disease… taking on the challenge of the RAG became a focus in my fight against the disease.
It is an extraordinary adventure because it gives us the opportunity to push our limits and discover sides of ourselves that we never suspected we had! For my part, less than 2 years before my 1st Rallye I couldn't even walk without help. I finished my first Rallye in 40th place, after fearing that I would be unable to complete it because of my very uncertain state of health!
We also meet amazing people from a wide variety of backgrounds, forming strong friendships that remain with us for the rest of our lives. It is more than just a sports event: it's an exceptional human adventure.
For many of us there is life before the RAG, and life after the RAG !
Régine Zbinden
Air traffic controller in Geneva, 2 sons aged 8 and 11.
🇨🇭 Switzerland
During the Rallye, I feel ALIVE!
There are intense times. I don't feel this intensity any more in the course of my "normal" life.
I am a happy woman… but at the Rallye we come alive… the joy, the anguish, heart pounding… the problems… the magnificent scenery… We don't just laugh during the Rallye, we shout with joy! Both for the challenge of the competition, and for the pleasure of sharing the experience with all these amazing women who do the Rallye. The joy of being reunited with your loved ones and seeing the look of pride on their faces is also part of the magic of this adventure.
This adventure is unique! It is intense and difficult. But I came out of it a bigger person, stronger and prouder than ever!  As far as I was concerned, this Rallye helped me to overcome something that I thought was insurmountable. We all have something to leave behind and something to gain in the desert.  So there is no doubt: you have to do it!  Since then, my motto has been: "Let's be crazy! Otherwise we'll go crazy!" Thank you, Rallye…?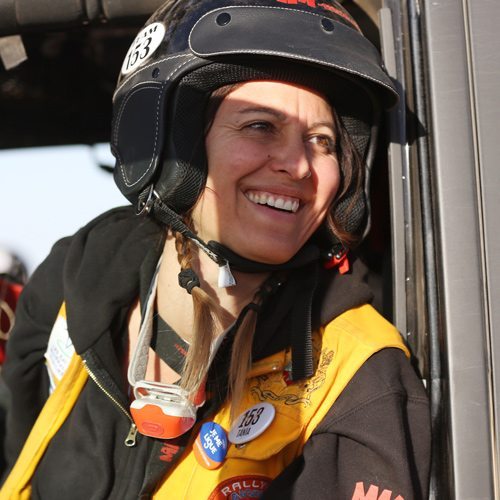 Tania Lio
I have 2 jobs : financial assistant for a civil engineering firm, and I co-direct an event company.
1 son aged 14 and almost 2 metres tall ?
🇮🇹 Italia
It all began with a dream…
I have lived the most incredible adventure! I didn't think the Rallye des Gazelles could change a person that much. Before doing it I was always full of doubts and apprehension and unsure of myself. I set myself a challenge and I saw it through! You go home proud of yourself, stars in your eyes, your head filled with memories and the feeling that you can move mountains. People often say that there is the Tania from before the Rallye, and the Tania from after the Rallye… But they prefer the one from after.
We push our limits to the extreme, we do things we didn't even think possible. The scenery is magnificent, we meet amazing people and the women really stick together. We make friends, true friends, we laugh a lot, we cry as well, and above all we feel incredibly alive. Living just for yourself for a week !
I won't lie: it is hard, very hard, but as my co-pilot Cécile so eloquently put it, it's like giving birth: you will forget and you will want to do it again… and she was right !
So yes, Once a Gazelle… always a Gazelle!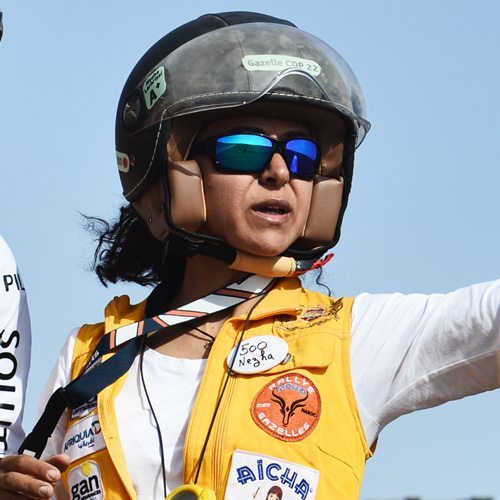 Nezha Lahrissi
Ministerial advisor and State telecommunications engineer, 2 chikdren
🇲🇦 Morocco
The "Rallye Aicha des Gazelles du Maroc" is a personal challenge in which we must face ourselves. Beyond being a one-of-a-kind adventure for women, it is an experience where you discover your hidden strengths.
Any woman who is seeking to fulfil herself, to challenge her limits and extend her horizons, both professional and personal, should do it…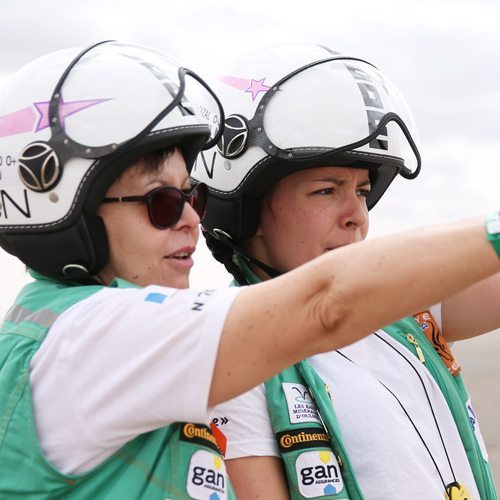 Annette Carcaud & Emilie Cazaud
Mother & daughter, Executive officer & Midwife
🇫🇷 France
We decided to go bury the disease beyond the dunes, to spread a positive message. Emilie's disease went dormant at the edge of the desert… that was our real success, proving that everything is possible, anything can happen… We showed ourselves equal to the challenge of representing the rheumatism association in the Rallye…
The Rallye is an adventure that really puts our bodies and minds to the test and it is easy to give up, but fortunately that feeling never lasted longer than a minute because we always knew how to motivate ourselves…
A day at the Gazelle rally is also smiles, hugs and a certain spirit that is not just a legend…
In life, you need to know your heading without getting lost… You need to know how to move forward, realize your dreams and always try to find the way to happiness, to share with those we truly love… The Rallye teaches us the most beautiful emotions, but also some of the most essential: knowing how to feel fear, to feel stress, to feel heat and cold, but to keep going forward and telling ourselves that sometimes we have no choice… So let's keep moving forward, living our dreams and facing life, without ever forgetting the adventure we lived together as mother and daughter to the end of the desert. Let's remember our motto: anything is possible, don't let ourselves be beaten by the disease or discouragement, and let us be the actors of our own lives…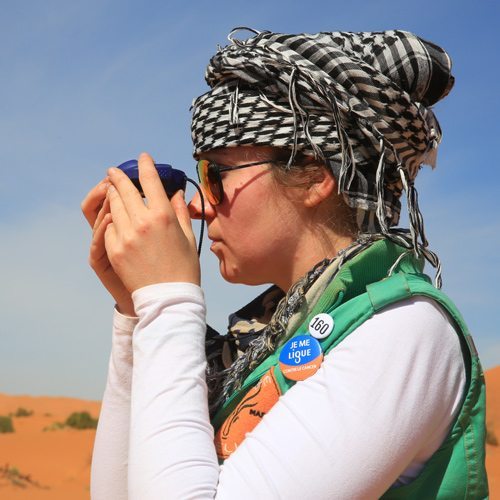 Carol-Anne Bellegou
Lawyer
🇫🇷 France
My sister Sally-Anne—who is also my best partner in crime—and I had an intense experience every day, a real roller coaster of emotions!
Our adventure was unforgettable… we can still remember every superb Moroccan landscape we drove through and that we found so amazing (dried Iriki lake bed, the grandiose Tafenna crater, the majestic Chegaga dunes…).
During the Rallye, our team worked best when we "shared" the roles of driver and navigator.
For me, the Rallye is the best illustration of the proverb "Where there is a will, there is a way!"
The deciding factor for us was the desire to show our entourage that we could achieve the unexpected through sheer perseverance and tenacity.As proof, we have very different temperaments and zero auto mechanics or off-road driving skills!
Finally, the Rallye is a great human adventure: we met so many amazing people, with whom we have formed a real "community".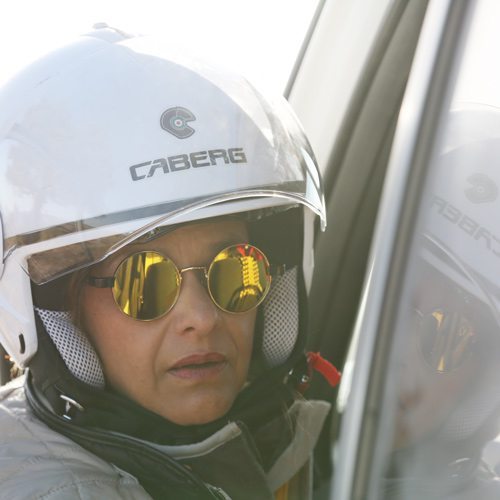 Veronika Grabher
🇦🇹 Austria
By signing up for the rally "Aïcha des Gazelles" –  I wanted to pay some kind of charity contribution to the country of my roots.
Without the rally – "Cœur de Gazelles" would not exist. I was very impressed by the many volunteers involved in the event. Medical doctors, mechanics, people from all walks of life who take off 3 weeks of their annual holidays to be a part of the rally and help to make the medical caravan run smoothly. They are up on their feet 20 hours per day.
The spirit amongst gazelles, directors and volunteers is almost indescribable. The rally is one marathon in an incredible beautiful surrounding.
All preparations were worth it.